Christelle Gall - Tutoring and homework help - Primary
Bloc text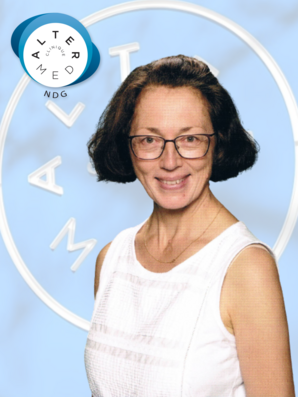 Christelle GALL - Primary school teacher
<BR><iframe frameborder='0' height='28' scrolling='no' src='https://altermed.janeapp.com/embed/book_online/46?location_id=2' width='177'></iframe>

EDUCATION
Training at the IUFM of Arras (France) 1986-1987

Teacher's diploma in 1987 (France)

School teacher since 2005

PROFESSIONAL BACKGROUND
I have been a teacher since 1985.
My career has led me to teach in all three learning cycles, from kindergarten to the last year of primary school (children from two years old to 12 years old).
I first taught in France, in the Hauts-de-France, for 14 years.
In 1999, I joined Stanislas College in Montreal and worked there for 23 years. I have taught there with great pleasure, in an environment marked by a multi-ethnicity that is enriching for both the teacher and the students. It is not uncommon to find eighteen different nationalities in one class.
MISSION-VALUES
It is truly a great challenge to lead the children on the path of the world around them, while taking into account their sensibilities, interests and their sensitivity, their interests and the learning difficulties that can sometimes arise during sometimes occur during their schooling.
A form to fill out will be sent to you before the first session in order to in order to have an overview of the situation and to take into account from the beginning important elements and benchmarks for the teacher's use.
FIELDS OF PRACTICE
As an educator, the practices will take the form of personalized tutoring and may
personalized tutoring and can be oriented towards various formulas adapted to your
your request and your child's needs:
Enrichment courses to go further in math and French

Consolidation of learning in a targeted subject, if your child is having difficulty in a particular area

Remedial classes if your child has been absent while learning a new concept in class

Help with homework

Revision (before exams)

The development of learning strategies so that your child gains confidence, structures his know-how and then optimizes the process of acquiring knowledge
TEACHING
The teacher, who accompanies the child in a learning situation, focuses on the conditions that must be met in order for the student to progress.
They work as a team with the parents.
Once trust has been established, the teacher, parents and student will work towards the same goal: the child's success. The child benefits greatly from this collaboration: he knows what is expected of him, he also knows that we are trying to accompany him in a spirit of benevolence, and he knows that he has several interlocutors at his disposal in case of difficulty
RATES
70$ per course
METHODS OF PAYMENT ACCEPTED
Debit (via square)

Cash

Cheque
Book a class!